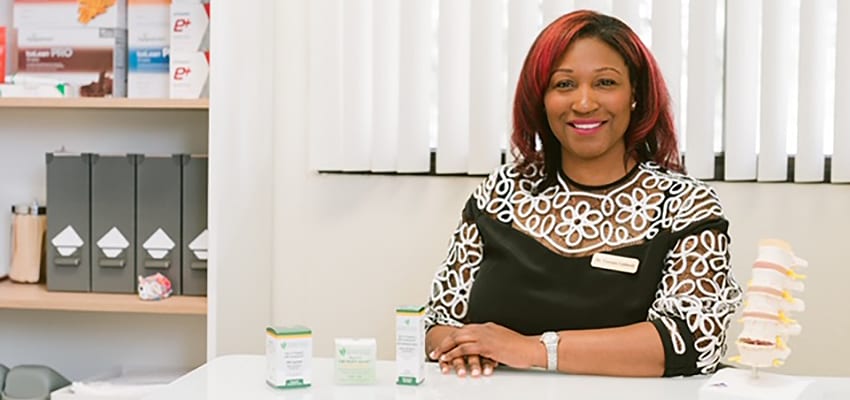 A Healthcare Provider with a Unique Approach to Wellness
Dr. Cynequa Caldwell has an uncommon philosophy when it comes to her Chiropractic practice. Her goal is to restore her patients to a state of wellness that they have never experienced or had given up on ever attaining. Her professional satisfaction is rooted in both the rehabilitation and revitalization of her patients through a complete physical, nutritional and spiritual approach to well-being. From athletes suffering from repetitive motion injuries to weekend warriors to people just dealing with the stresses of everyday life on the body, Dr. Caldwell uses her formal education and broad experience to deliver comprehensive care that helps her patients look better, feel better and most importantly, function better in their daily lives.
Dr. Caldwell began her medical profession as a Certified Pharmacy Technician. Her desire to be a healer led her to a bachelor's degree in Kinesiology from San Jose State University (SJSU) with a double emphasis in Adaptive Physical Activity (APA) and Physical Education. While at SJSU, her desire to help people perform at their optimum physical level led her to serving as a Special Olympics Swim Team coach. Her passion for health eventually led her to pursuing her degree in Chiropractic medicine, where her special focus on "Wholistic" care was fully formed. Dr. Caldwell has worked with a variety of patients, ranging in all ages and current states of health. Her professional reputation and success rate has led her to being chosen to provide contracted Chiropractic services at one of the largest and most prestigious tech companies in Silicon Valley, along with opening her healing clinic in the area as well.
When Dr. Caldwell isn't treating patients, she enjoys spending time with her daughters, enjoying winter sports in Tahoe, traveling internationally and training and competing in the Rock N' Roll Marathon Series running half marathons and 10k marathons. She welcomes new patients to her practice, and is excited to be your provider and guide through your own "Wholistic" journey to wellness!